Well, as you're browsing this, you probably know something about me. However for those really bored people that are looking up random websites and have come across my website, I'm an IT Manager living in Basingstoke, a bit of a geek, sarcastic, a cool dude but most of all, just me.
Once upon a time, I had long hair, now however, I'm appreciating the short hair, though I have decided to take the opportunity to grow a beard. (You know, Winter insulation) I will one day update the photo on here, that is, as soon as I have a photo to update it with.
This site contains Blogs, Photos & Videos and probably some other things over time about my life, it will also contain views and opinions of my own that may offend other people. Some will be funny, Some will be depressing, and some will be generally boring. All I can say to that is, if you don't like it, don't read it :-)
If you would like to see the signature on my signed emails, then make sure you have my key. This will also allow you to encrypt items for me. This is an OpenPGP (GPG) Key, so you'll need a GPG system to set it up. (windows users look here)
I have been working a lot with IPv6 recently as some of you may know. I decided to run through Hurricane Electrics certification process, and below you can see my progress on this: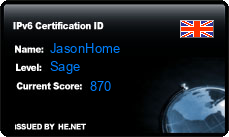 This will automatically be updated from HE's website as I go through the certification. However to progress through some the items, it requires me to change bits of my server setups, so this is taking a little while to do.
J